דפים בנושא: < [1 2 3 4 5 6 7 8 9 10 11 12 13 14 15 16 17 18 19 20 21 22 23 24 25 26 27 28 29 30 31 32 33 34 35 36 37 38 39 40 41 42 43 44 45 46 47 48 49 50 51 52 53 54 55 56 57 58 59 60 61 62 63 64 65 66 67 68 69 70 71 72 73 74 75 76 77 78 79 80 81 82 83 84 85 86 87 88 89 90 91 92 93 94 95 96 97 98 99 100 101 102 103 104 105 106 107 108 109 110 111 112 113 114 115 116 117 118 119 120 121 122 123 124 125 126 127 128 129 130 131 132 133 134 135 136 137 138 139 140 141 142 143 144 145 146 147 148 149 150 151 152 153 154 155 156 157 158 159 160 161 162 163 164 165 166 167 168 169 170 171 172 173 174 175 176 177 178 179 180 181 182 183 184 185 186 187 188 189 190 191 192 193 194 195 196 197 198 199 200 201 202 203 204 205 206 207 208 209 210 211 212 213 214 215 216] >
Off topic: 泰晤士(TIMES)四合院儿
| | |
| --- | --- |
| The Queen's first state visit to America in 1957 | Jun 16, 2015 |


17 October 1957: US President Dwight Eisenhower and first lady Mamie are flanked by their royal guests, Queen Elizabeth II and her husband, Prince Philip, at the White House





Queen Elizabeth II of Great Britain and her husband, Prince Philip, Duke of Edinburgh, visited Williamsburg Oct. 16-17, 1957, to celebrate the 350th anniversary of the founding of the first permanent English settlement in the Americas
Photo courtesy of the Richmond Times-Dispatch
| | |
| --- | --- |
| Her Majesty's 2007 U.S. Visit - from TIME.com | Jun 16, 2015 |

BOB BROWN / POOL / EPA

Standing Ovation
Virginia State lawmakers welcomed Elizabeth with thunderous applause




CHURCHILL DOWNS / KINETIC CORPORATION / GETTY

Kentucky Derby
At the 133rd run for the roses at Churchill Downs in Lexington, Kentucky




JASON REED / REUTERS

Royal Greeting
Shaking hands with members of the U.S. Army Chorus




KEVIN DIETSCH / UPI / LANDOV

Memorial
The Queen tours the National World War II Memorial on the final day of her visit




PATIZZO / NASA / LANDOV

Flight Center
On her last day in the U.S. Elizabeth and Philip toured NASA's Goddard Space Flight Center in Greenbelt, Maryland
| | |
| --- | --- |
| The National World War II Memorial | Jun 16, 2015 |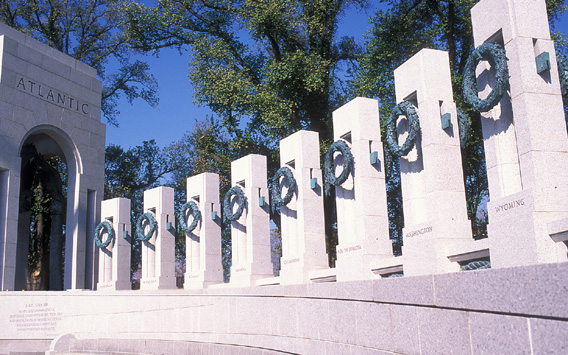 https://www.wwiimemorial.com/archives/factsheets/memorialdesign.htm
Memorial Design
The National World War II Memorial design recognizes that the site itself pays special tribute to America's WWII generation. The memorial design creates a special place within the vast openness of the National Mall to commemorate the sacrifice and celebrate the victory of WWII, yet remains respectful and sensitive to its historic surroundings. The vistas from the Washington Monument to the Lincoln Memorial and the site's park-like setting are preserved, and the double row of elm trees that flank the memorial have been restored. Above all, the design creates a powerful sense of place that is distinct, memorable, evocative and serene.

David Lin


הממלכה המאוחדת
Local time:

18:34




חבר (2013)


מאנגלית לסינית
+ ...

מנהל פורום זה
| | |
| --- | --- |
| Colonel of the Grenadier Guards | Jun 17, 2015 |
wherestip wrote:
** Actually, the side of the tin in the previous picture reads:
H.R.H. Princess Elizabeth
Colonel of the Grenadier Guards


Steve,

Very interesting collections! Your reminiscing about the early life of Queen Elizabeth II brings fond memories of her constant contributions to the UK-US relationship especially in the times of grave difficulties of human conflicts.

She was indeed only a princess at the time your elegant tin boxes were made. I noticed in the British Monarchy official website that she was actually "Colonel-in-chief" which is 名誉团长,a ceremonial position which does not have an operational role compared to that of "Colonel of the Regiment" who has.

"In early 1942 Princess Elizabeth was appointed Colonel-in-Chief of the Grenadier Guards, and on her sixteenth birthday she carried out her first public engagement, when she inspected the regiment."
http://www.royal.gov.uk/HMTheQueen/Publiclife/EarlyPublicLife/Earlypubliclife.aspx

Incidentally, the Grenadier Guards got the name from their defeat of the Grenadiers of the
French Imperial Guard in the famous Battle of Waterloo in which Napoleon was finally defeated in 1815.

http://www.army.mod.uk/documents/general/History_Grenadier_Guards(1).pdf

Perhaps no need for me to say as you read the year of 1815. This year marks the 200th anniversary of the Battle of Waterloo 滑铁卢战役 . I shall write more about this as the whole nation of Britain is celebrating it.

The actual battle began tomorrow (18 June) 200 years ago!

[Edited at 2015-06-17 15:07 GMT]

[Edited at 2015-06-17 15:07 GMT]

[Edited at 2015-06-17 15:10 GMT]

QHE
ארצות הברית
Local time:

13:34


מאנגלית לסינית
+ ...


TOPIC STARTER


In 2007, Queen Elizabeth II had five corgis: Monty, Emma, Linnet, Willow and Holly; five cocker spaniels : Bisto, Oxo, Flash, Spick, and Span; and four dorgis (dachshund-corgi crossbreeds): Cider, Berry, Vulcan and Candy. Monty, Willow and Holly appeared in the 2012 Olympic opening ceremony when James Bond (portrayed by Daniel Craig) arrived at Buckingham Palace to escort the Queen to the event.
https://en.wikipedia.org/wiki/Queen_Elizabeth
's_corgis



https://www.youtube.com/watch?v=1AS-dCdYZbo





[Edited at 2015-06-17 23:56 GMT]


[Edited at 2015-06-18 00:15 GMT]

QHE
ארצות הברית
Local time:

13:34


מאנגלית לסינית
+ ...


TOPIC STARTER
In April 27, 1979, four years after the Fall of Saigon. The Vietnam Veterans Memorial Fund, Inc. (VVMF),
was incorporated as a non-profit organization to establish a memorial to veterans of the Vietnam War.

A year later a site near the Lincoln Memorial was chosen and authorized by Congress on the site of a
demolished World War I Munitions Building. Congress announced that the winner of a design competition
will design the park. By the end of the year 2,573 registered for the design competition with a prize of $50,000.
On March 30, 1981, 1,421 designs were submitted. The designs were displayed at an airport hangar at Andrews
Air Force Base for the selection committee, in rows covering more than 35,000 square feet (3,300 m2) of floor space.
Each entry was identified by number only, to preserve the anonymity of their authors. All entries were examined by
each juror; the entries were narrowed down to 232, then 39. Finally, the jury selected entry number 1026.
The artist was Maya Lin.
https://en.wikipedia.org/wiki/Vietnam_Veterans_Memorial
http://www.nytimes.com/1981/06/29/style/yale-senior-a-vietnam-memorial-and-a-few-ironies.html

Via Imgur




[Edited at 2015-06-18 16:36 GMT]


[Edited at 2015-06-19 00:29 GMT]
| | |
| --- | --- |
| Journalism Ethics | Jun 18, 2015 |
http://money.cnn.com/2015/06/18/media/brian-williams-decision-nbc/


Brian Williams given chance to 'earn back everyone's trust'

Suspended "NBC Nightly News" anchor Brian Williams "has the chance to earn back everyone's trust," his boss at NBC News said Thursday, as the network confirmed that Williams will return to television later this summer, but in a reduced role.
NBC also confirmed that Lester Holt, Williams' fill-in since February, will become the permanent anchor of the "Nightly News."

In a press release, NBC News chairman Andy Lack credited Holt with performing "remarkably well over the last few months under very tough circumstances."
As for Williams, Lack said the anchorman's "excellent work" in the past had earned him a second chance.
The decision caps months of deliberations by network executives.
After Williams' suspension ends in August, he will have two main jobs: he'll be an "anchor of breaking news and special reports" on MSNBC, NBC's ratings-starved cable news channel, and he'll "serve as a breaking news anchor for NBC News live special reports when Holt is not available."
Breaking his silence for the first time since February, Williams, 56, began his statement with two simple words: "I'm sorry."
"I said things that weren't true," he said. "I let down my NBC colleagues and our viewers, and I'm determined to earn back their trust."


http://www.journalismethics.info/online_journalism_ethics/new_media_trends.htm
QHE wrote:

Maya Lin 林瓔


QHE,

Thanks for sharing the information and the magnificent photo of the Vietnam Veterans Memorial Wall!

我倒是早就听说林璎是华盛顿越战紀念碑的設計者,但今天仔细阅读了关于她的介绍才发现,原来她是林徽因的侄女。请见以下链接中的世系图:
https://zh.wikipedia.org/wiki/林徽因

无巧不成书,林徽因参与了北京人民英雄纪念碑的设计。

[Edited at 2015-06-19 23:35 GMT]
| | |
| --- | --- |
| sad commentary | Jun 19, 2015 |


Yueyin,

Indeed. Sadly, what's misconduct or unethical behavior in some societies could very well be standard fare in others.

I had to google "乱唱样板戏" to look for what you were referring to. But I've got it.

... Politics and ideology aside, I just can't stand people who are two-faced.


[Edited at 2015-06-19 16:00 GMT]
דפים בנושא: < [1 2 3 4 5 6 7 8 9 10 11 12 13 14 15 16 17 18 19 20 21 22 23 24 25 26 27 28 29 30 31 32 33 34 35 36 37 38 39 40 41 42 43 44 45 46 47 48 49 50 51 52 53 54 55 56 57 58 59 60 61 62 63 64 65 66 67 68 69 70 71 72 73 74 75 76 77 78 79 80 81 82 83 84 85 86 87 88 89 90 91 92 93 94 95 96 97 98 99 100 101 102 103 104 105 106 107 108 109 110 111 112 113 114 115 116 117 118 119 120 121 122 123 124 125 126 127 128 129 130 131 132 133 134 135 136 137 138 139 140 141 142 143 144 145 146 147 148 149 150 151 152 153 154 155 156 157 158 159 160 161 162 163 164 165 166 167 168 169 170 171 172 173 174 175 176 177 178 179 180 181 182 183 184 185 186 187 188 189 190 191 192 193 194 195 196 197 198 199 200 201 202 203 204 205 206 207 208 209 210 211 212 213 214 215 216] >
To report site rules violations or get help, contact a site moderator:
You can also contact site staff by
submitting a support request »
泰晤士(TIMES)四合院儿
Trados Business Manager Lite
Create customer quotes and invoices from within Trados Studio

Trados Business Manager Lite helps to simplify and speed up some of the daily tasks, such as invoicing and reporting, associated with running your freelance translation business.

More info »
Wordfast Pro
Translation Memory Software for Any Platform

Exclusive discount for ProZ.com users! Save over 13% when purchasing Wordfast Pro through ProZ.com. Wordfast is the world's #1 provider of platform-independent Translation Memory software. Consistently ranked the most user-friendly and highest value

More info »